Design Trends and Inspiration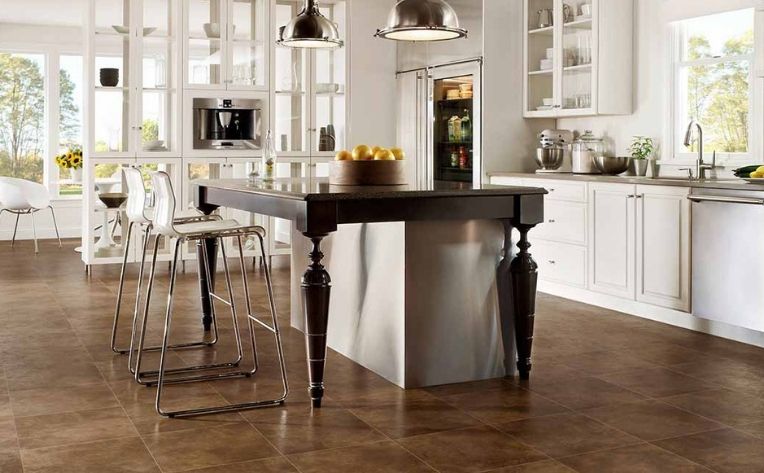 May 10, 2021
Vinyl Is Back
The popular vinyl flooring of the 1970s was durable, versatile, and came in any pattern imaginable, but perhaps it would be considered undesirable by today's design standards. We have good news, though: Vinyl flooring is still as durable and versatile as ever but now comes in limitless options that bring beauty and style into your home. This affordable flooring, now known as luxury vinyl plank (LVP) or luxury vinyl tile (LVT), mimics more expensive materials without the steep price tag, and we promise you won't feel like you are living in a '70s sitcom.
The Look of Hardwood
Hardwood floors give your space a timeless feel, but installing hardwood is expensive. Plus, since it's composed of natural wood, hardwood requires upkeep and can be damaged easily. Luxury vinyl plank can look like hardwood but comes with the benefit of being waterproof, standing up to spills and messes. With luxury vinyl planks, you can get the look of maple, oak, or pine without the high cost.

Tile Style
When it comes to luxury vinyl tile, popular choices include limestone, marble, or slate. Traditional tiles in these styles not only can be very expensive but also can be challenging to maintain. With luxury vinyl tile, there are so many color options within different tile styles you already love. Plus, with the amazing technology behind luxury vinyl, you will still have floors with natural texture and dimension at a lower price point.

Color Outside the Lines or In
Once you have selected your desired texture, it's time to decide on a color. Vinyl in the past had a lot of yellow undertones. Even hardwood can yellow over time, which with current trends will make your floors look outdated. With modern luxury vinyl, you won't have to worry about floors yellowing, and there are endless colors to choose from. Light colors will open up your space, and dark colors will add formal elegance and contrast.

Other Options
Concrete floors have also been a popular style, but the problem is that these floors develop cracks over time. Not to worry, luxury vinyl can mimic concrete flooring and leave you with a smooth crack-free surface.
If you are looking for a pop of color or making a statement, luxury vinyl comes in a variety of modern colors and patterns. These options will leave you with a bold design of multi-colored floors that feel updated and fresh.

Vinyl Experts Are Here to Help
The endless options of luxury vinyl can feel overwhelming unless you have the assistance of a flooring expert. Turn to your local Flooring America experts, as they are always eager to help you with your next flooring project. We can help you find the right style and colors for every budget, leaving you with floors that you will love. Stop by your local Flooring America today.
Continue Reading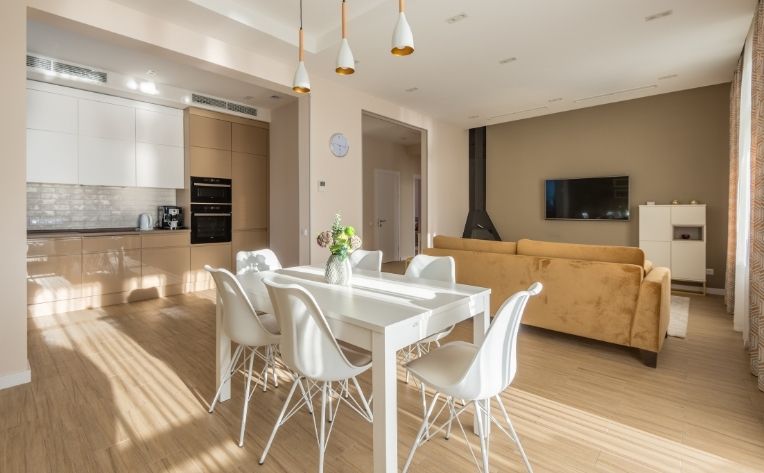 May 05, 2021
Defining Minimalism
The word minimalism gets tossed around a lot and seems like a fancy buzzword for being organized. Minimalist design is much more than having a tidy home and owning a label maker. In the simplest of terms, minimalism means living with less. This could mean living with less clothing, fewer beauty products, or less stuff inside your home.

A Deeper Meaning
If you are looking to transition into becoming a minimalist, you might find yourself constantly asking, "Do I need this?" If you are practicing the method correctly, the answer to this question will be "no" more often than "yes." Minimalism could be considered a practice of intention, as you must prioritize the necessary items in your home and remove anything that distracts from them.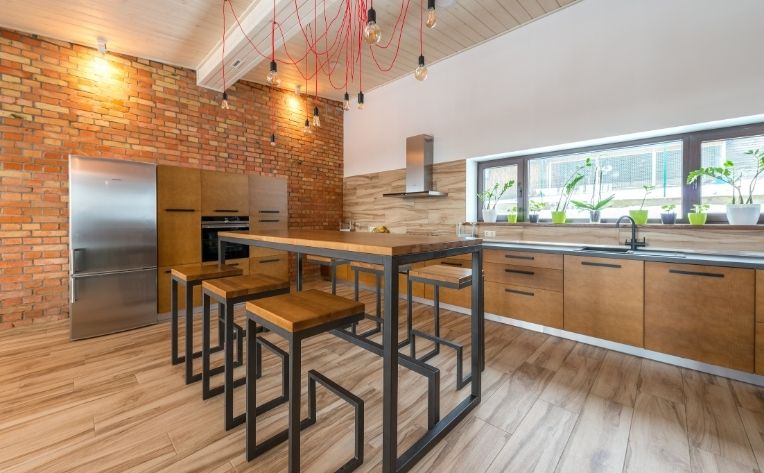 Minimalist Design
In terms of design, minimalism is all about removing busy patterns, adding clean lines, and incorporating a natural color palette. A minimalist-designed space should feel open, giving you a light and airy feeling upon entering.

How Do Floors Fit In?
Of course, the style of furniture you have in your space, the textures you incorporate, and the color of your walls can all contribute to your minimalist design—including your floors. When looking for the perfect floors to lay the foundation of your minimalist space, we recommend shopping for floors within a neutral color palette that provide clean lines, so your space is always looking fresh.
If you are interested in hardwood floors, we suggest contemporary, wide-planked floors that have muted or whitewashed tones. Tile can provide a nice texture and an earthy stone-like look, which can play on the use of natural elements. Last, luxury vinyl planks and tiles can replicate wood, stone, or anything in-between, giving you more budget-friendly options.

Make the Shopping Process Minimal with One of Our Experts
If you need help figuring out what floors will work best with your minimalist design, your local Flooring America experts are here to help. These experts can assist you in deciding on the best flooring for your budget and your minimalist vision. Give them a call or stop by your local Flooring America store today.
Continue Reading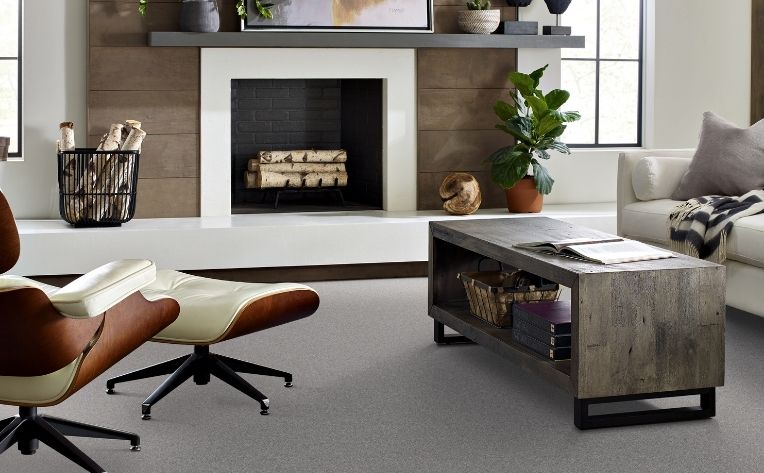 Apr 28, 2021
A Colorful Conversation about Carpet
Contrasting Colors and Why They Matter
When a pair of contrasting colors are placed side by side, they bring out the best in each other. They are at their peak vibrance and richness of hues. When contrasting colors are mixed, they create a neutral color like brown or gray. Thus, when you think about color, especially the color that will be going on your floors, the contrasting colors that make up neutrals are key, as they can become part of your larger design palette.

The Process of Selecting the Right Carpet
When you begin to think about what color carpet you might like, we suggest thinking about the larger, more expensive items that will be going into your space, especially if they have only a few color variations. It can help inform your carpet color by first considering colors for large-ticket items like an antique desk or a leather couch. Then, you can choose paint for your walls last, as the options for paint are limitless and can be changed easily.
Trends are always changing, and replacing the carpet is much more difficult than repainting. Due to this fact, most individuals go with neutral-colored carpet—it is less likely to become outdated, and dramatic colors can be overpowering in your space.

Neutral Doesn't Have to Be Boring
If you are worried about the neutral-colored carpet being dull, there is room to get creative with different textures and patterns. Berber flecks can give you a multicolored carpet that still plays within a neutral color palette. Simple, geometric patterns can also be a fun way to add some spice to your neutral color palette while still keeping to a timeless look.

A Colorful Lifestyle
When choosing carpet color, your lifestyle is also something to consider. A white carpet might not be the best option for the playroom—where fingerpaints, glitter, and silly putty are easily within reach—but may be more suitable for the master bedroom. Also, pets are a major factor as they can easily soil and stain your carpeting. Taking these elements into consideration might encourage you to opt for darker-colored carpets or soil-resistant treatments.

Carpet Color Consultants Are Here to Help
If you need assistance figuring out what carpet colors and styles are best for your lifestyle, the folks at Flooring America are here to help. These experts can guide you through our extensive collection to find the right option for the spaces that mean the most to you. Give them a call or stop by your local Flooring America store today.
Continue Reading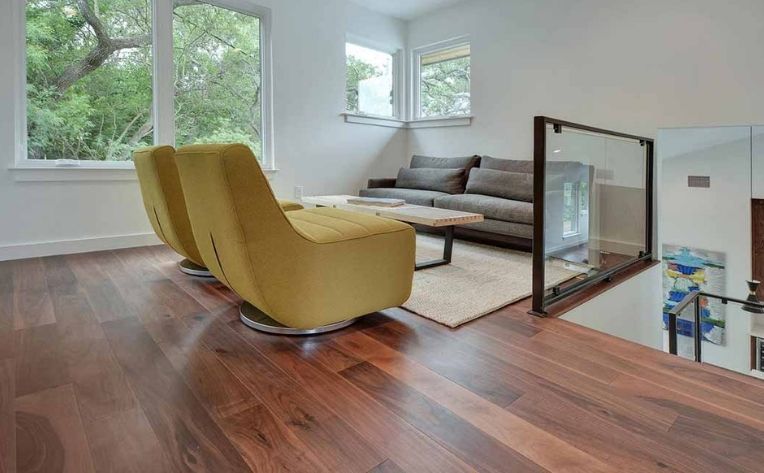 Apr 26, 2021
Hardwood floors are timeless, beautiful, and come with endless color options. Having hardwood floors that seems to never go out of style make choosing the right color hardwood for your space a challenge. Are there trends to follow? Yes, of course, there are specific hardwood trends to follow in 2021, but colors can also bring a unique personality to your room. As you decide what you want the ambiance of your room to be, the color and wood type can help you communicate it.

The Language of Dark Hardwood Floors
Dark hardwood floors and stains have been popular in recent years and are great if you're looking to sell your home as they increase property value. Darker-colored floors are sophisticated and formal as they add deep contrast to your room. In terms of maintenance, the finish of this flooring can make a big difference. Dark flooring shows scratches, dust, and imperfections more easily. If you are looking for a lower-maintenance option, we recommend a wire-brushed finish with a clear coat—especially if you have furry friends at home.

On the Contrast
Light-colored wood and stains offer a subtler, casual style. A light color will open up your space and make it feel larger and airy, which allows the focal point of the room to shift. Instead of the floors being the center of attention, the décor and details of the room become the main attraction. Light-colored floors are also easier to take care of as they hide imperfections and dirt more easily. Plus, they reflect light instead of absorbing it, which adds a feeling of openness to your space.

Somewhere in the Middle
Of course, on the spectrum of color, there are so many options that fall between light and dark. Perhaps you are looking for an option that doesn't feel so dramatic but still offers some contrast and texture to your space. Medium-colored woods such as honey-gold browns or antique chestnuts can be great options that aren't closely associated with a trend and give you a safe, more traditional look.

Flooring America Is Here
Whether you have your heart set on hardwood floors that are dark, light, or somewhere in between, the Flooring America experts are here to guide you. Come into your local Flooring America today, and let the experts help you create the feeling of home as soon as you step in the door.
Continue Reading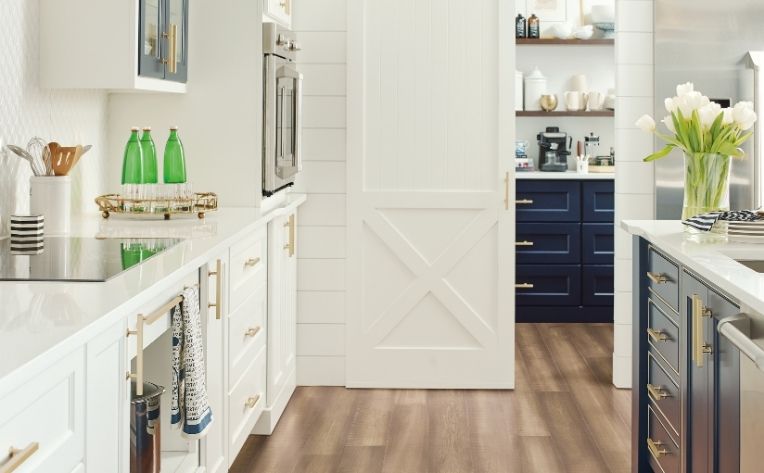 Apr 21, 2021
Farmhouse style brings a vintage feel with a modern touch that makes your house feel more like home. Although cute signage, open shelving, and perhaps a chandelier or two might seem essential to this style, you can't forget about how foundational flooring is.
Hardwood Options
Wood floors seem like the obvious go-to, but of course, there are plenty of options to choose from to make your farmhouse design feasible.
Wide planks are a great option as they bring a rustic more antique feel. When hardwood floors first became popular, milling machinery was not readily available, and thus wider planks were much more affordable and easier to come by. If you're going for this look, 6-to-7-inch planks are an ideal width.
Whether you go with skinny or wide planks, the finish and type of wood you choose definitely matter when it comes to farmhouse design. Avoid orange, red, and yellow tones when choosing the type of wood and stain. These colors can give your room a more dated feel and can make decorating your space more challenging.
Instead, we recommend sticking to neutral wood options inside a gray color palette or a whitewashed one. Domestic wood species like maple, hickory, and oak not only work well for whitewashing, but they are the most popular among the farmhouse style.
Natural hardwood characteristics such as knots, visible grain, and other imperfections are desirable for this design motif. To create this look on your own, try wire-brushed floors.

Luxury Vinyl Brings Style on a Budget
If you love the way hardwood floors look but are on a budget, luxury vinyl floors are a great choice. With such a large array of style options, you will not only be able to achieve the farmhouse style, but luxury vinyl is also waterproof and easy to maintain.
In addition to wood floors and flooring options that look like hardwood, tile also falls under the farmhouse aesthetic. More natural-looking tiles like slate or terracotta are excellent options to achieve farmhouse chic.
Once you have laid the perfect floor, your home will be ready for cute knickknacks, reclaimed wood furniture, and, of course, shiplap!

Consult the Experts on Your Farmhouse Floors
If you need help figuring out what floors fit your budget and your farmhouse design, your local Flooring America store is here to help. These experts can help you decide on the best flooring styles and hues for your space. Give them a call, or stop by your local Flooring America store today.
Continue Reading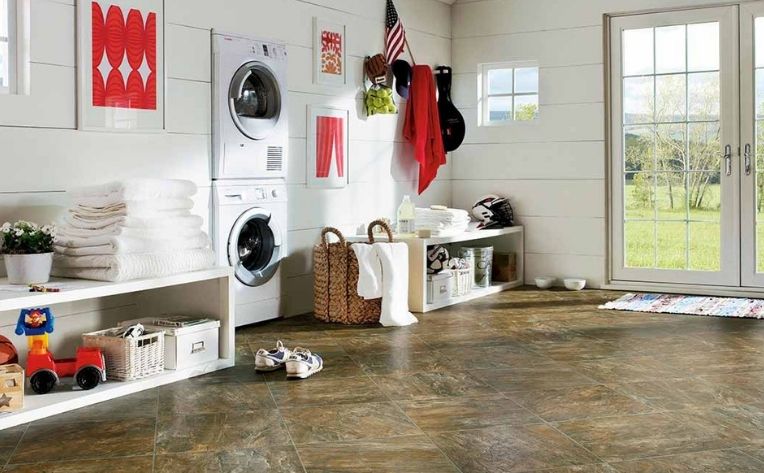 Apr 19, 2021
Mud defiantly comes into the mudroom, but that doesn't mean style, organization, and functionality have to stay out.
To be blunt, mudrooms get muddy. This high-traffic area is often overlooked, but whether you are carrying one too many grocery bags into the house, taking the dog for a walk, or trying to get the kids out the door, having this space be functional is key.
Solutions for Every Space
These spaces vary in every home. Some have an entire room dedicated to being a mudroom; others have a small entryway; some are a shared laundry or garage space. Regardless of what space you are working with, it is easy to let this area become a dumping ground for coats, bags, and shoes. Hooks, shelving, and shoe racks are inexpensive solutions for keeping clutter off the floor. Once the clutter is no longer in danger of being tripped over, you might find that using stylish bins or curtains can keep your items neatly tucked away while still creating an inviting environment.

Functional Flooring
The floor of your mudroom is also an important asset. We have already established that what goes out the door often comes back in. Mud, salt, and moisture will likely be trekking their way into this space. Thus, durable and darker-colored floors are the most functional. The types of floors that might be fitting for this space include tile, luxury vinyl, and laminate. This way, in-between cleanings, your floors still look great despite all of the action.

Picking the Right Color Palette
With darker floors in mind, light walls and accent colors can keep the room feeling open and spacious. In addition, since this is a transitional area of the house, you might want to consider bringing colors from the connecting rooms into this space to create flow.

Final Touches
Benches and small storage units can also be great assets depending on the size of your space. If you are working with a smaller entryway, ditch the added furniture to keep the area feeling airy. If you have room, consider looking for a vintage, freestanding piece that can add functionality and style without breaking the bank.
When you walk into your home, make it feel like home with a warm, inviting entryway that can stand tough to the action of daily life.

Flooring America Is Here
No matter what type of floors you're considering to make your mudroom more functional and beautiful, your local Flooring America store is here to help. New floors, storage, and organization can really make a difference when it comes to creating a space you love. Come into your local Flooring America today, and let the experts help you create the feeling of home as soon as you step in the door.
Continue Reading