COREtec Waterproof floors at $2.29 sqft! ...... 805-668-3692
Waterproof Planks and Tiles
100% Waterproof - Kidproof - Petproof
Giving you waterproof protection, outstanding durability and high-end handcrafted designs.
Easy care and durable, many of our customers prefer this flooring for all their needs. Come in and find just the right floor for your home! We have several brands to choose from, here are just a few...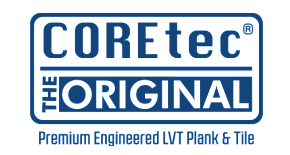 COREtec Plus
COREtec Plus XL and more!
Downs H2O Waterproof Planks and Tile, LVT and LVP
GALVANITE
Naturcor H2O Floors
Naturcor H2O floors offer wood and stone looks in a cushionstep with strength and durability.